AZ Bounce Pro is the leader in party rentals in Phoenix, Arizona.  We also service other metro areas including Scottsdale, Paradise Valley, Glendale, and other Phoenix Metro cities.  We carry a huge selection of inflatables, amusement rides, arcade games, and equipment for parties and events.  We are equipped to handle the largest events in the Southwest and can offer service and value unequalled anywhere!  Whatever your party rentals needs – we have it covered!  Bounce houses, water slides, carnival rides, and fun games for corporate events and parties are all what we offer – and more!  Our team of dedicated event professionals stand ready to assist you with your party rental needs!
AZ Bounce Pro is the premier party entertainment company in the Southwest. We have produced some of the best fun in Arizona and surrounding states! Whether you are planning a company picnic for 10,000 people, a school carnival, a high school graduation, or a backyard birthday party – we handle more than just inflatable bounce house rentals. We carry only the most professional and cleanest inflatable and party rental equipment in Arizona. We are located in Phoenix, Arizona and deliver to all of the Southwest. Let one of our friendly sales associates handle all the party planning for you. We offer full service catering for special events and can provide you with entertainers, inflatables, and all the event services that you will need to pull off a successful event!
Glowing games have become popular in the past few years as people are looking to create events that really pop and standout from regular party experiences.  We have created glowing ping pong tables, glowing foosball tables, glowing giant connect four and many other glowing games that really will impress your party guests.  You should strongly consider glowing games as part of your next list of event rentals.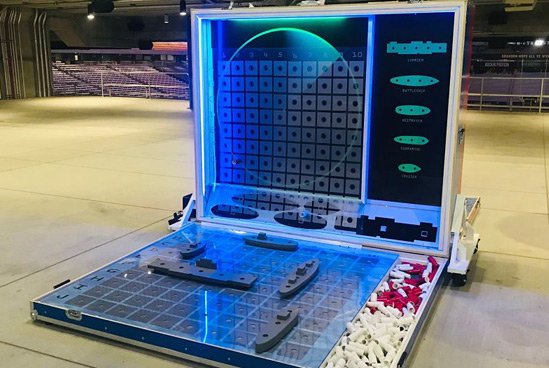 Giant games have been a popular trend in event rentals.  Giant games take the classic games that you love and make them on a larger scale.  Examples of giant games that have been popular are giant Battleship, giant Jenga, giant cornhole, and even giant Kerplunk!  Giant games can be rented on their own or be a great gathering point at events.  When you are planning an event they can be conversation starters and are often times focused on for those "Instagrammable" moments.  After all, who doesn't love a giant game of Battleship?
Table games are a perfect addition to a party but they can also be the centerpiece.  We offer foosball, billiards, and air hockey rentals that thousands of our clients have loved to rent and play!  They provide that competitive spirit that you want and the team building experience that you might be looking for at your event!  Our table games are all the latest models.  We event have glowing versions of many of the most classic table game rentals.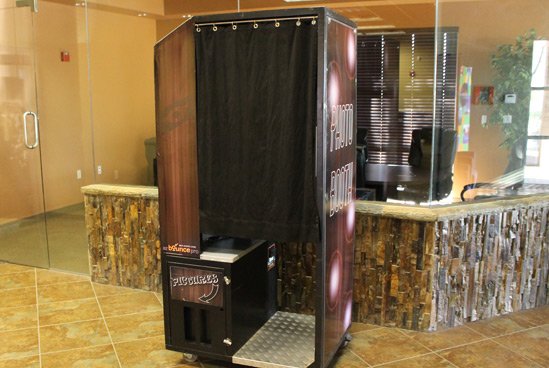 When you are doing and event or party many times you want to think up ways to memorialize the event with a takeaway item.  Photo booths are a really great way to do this!  We have a cool selection of photos booths that can be used at your event.  Our photo booths are different than a traditional old school photo booth.  We offer open-air photo booths that can fit many people in one picture.  We also offer green screen photo booths that can place your guests in almost any background that you want.  Want your boss to be eaten by a shark?  We can do that with our green screen photo booth rentals.  You many also want to check out our mosaic wall photo options.  Mosaic photos allow you to put hundreds of photos together to make one giant mosaic picture that really embodies the spirit of your special event!
Best Entertainment & Event Supplies in the Southwest
AZ Bounce Pro provides the best entertainment and supplies for events in the Southwest!  We have the best party rentals and cleanest products available for rent in Arizona.  Whether you are looking to rent a bounce house, inflatable interactive attractions, inflatable water slides, or just looking to rent something for a party or celebration in general – AZ Bounce Pro has what you need to have a great party experience in Arizona.
Bounce houses and inflatable bouncy castles are what we started our business with and continue to provide all over the valley of the sun!  Inflatable bouncers are a staple of almost any party and delight kids and adults alike!  We have bouncy castles in all shapes, colors, and sizes.  Whether you need a bouncy house that is made for small kids or big kids we have what you need!  Our most popular bounce house is our Megadome XXL bouncy house that is 20ft x 20ft and can fit more people in it than a normal bounce house rental.
Inflatable combos are another fun party rental item that became popular only a few years ago.  The inflatable combos are a combination of a bounce house with a slide attached.  Inflatable slide and bounce combos can combine many different entertaining elements.  Combos include a bounce area and inflatable slide, but it can also include elements such as tunnels, obstacles, and basketball hoops.
AZ Bounce Pro rents inflatable water slides in Arizona and the Southwest!  Inflatable water slide rentals became popular several years ago and inflatable water slides continue to get bigger, more fun, and more popular!  We carry 50 different inflatable water slides for rent.  We specialize in water slide rentals in Scottsdale  Phoenix, and Paradise Valley.  Our smallest inflatable water slide is 10 feet tall and our biggest is over four stories tall!  The inflatable slides for rent from us are all cleaned and sanitized after every use to insure you have a great experience every single time!  Inflatable water slide rentals are Arizona's most popular party rental item especially during the hot summer months!
Inflatable obstacle courses are all the rage in large events that you may be planning!  We carry inflatable obstacle course rentals that can range in size from 40ft long up to hundreds of feet long.  Also available are obstacle courses that can have cool themes like pirate obstacle courses, dinosaur obstacle courses, or western themed obstacle courses.  The goal of obstacle courses is to run through them as fast as you can and beat the person you are racing.  For this reason an inflatable obstacle course rental is a great choice for a large scale event where you want to have the maximum number of people entertained as quickly as possible.
Toddlers and small kids are often the forgotten group at a large event.  Many times toddlers are forced to play with larger kids on bouncy castles or inflatables and they get intimidated on these play structures while the bigger kids have fun.  For this reason we have a large selection of toddler inflatables in many different themes that are fun for the smaller kids.  We offer farm themed, pirate themed, circus theme, and many other fun themes for the smaller kids at events.  We have a huge selection of Phoenix bounce house rentals available.  We often recommend that events have a dedicated toddler zone for the smaller kids so that they have their own fun designated area to play.  We get rave reviews from events on our toddler zones.  It is often the highlight of events!
Carnival ride rentals have become one of the biggest parts of our business lately!  Carnival rides can be many different things for events.  We have many different models of carnival rides.  The swing rides that we offer are called the Ballistic swing ride and Mindwinder swing ride.  The Ballistic swing is a fast paced swing ride that can fit up to 16 riders at one time!  The Mindwinder swing is a little different in that it swings around the middle and the buckets that riders sit in also spin!  The Mindwinder is a super popular carnival ride rental because of its swinging and spinning features.
Trackless Trains are a fun addition at parties.  You have probably seen trackless trains running at your local mall or outdoor venue.  We have the same electric trackless trains as the mall trains.  Kids and adults love our train because it is much more than a miniature train!  It looks like a real train!
Interactive inflatables is a category of inflatable rentals that can encompass many different inflatable types.  Jousts, bungee runs, and the meltdown are examples of interactive inflatable rentals.  The interactive experience inflatables are popular party rental items at large carnivals and company picnics, but they can also be rented individually.  Bungee runs and inflatable jousts have been around for a long time and are always a fun addition to any party or event.
Recently arcade games have become popular party rental items at corporate events and high end birthday parties and mitzvahs.  We carry a huge selection of popular arcade games.  The most popular arcade games are our giant Pacman and our motorcycle race arcade games.  We have several versions of pinball as well.  Pinball is a very fun classic arcade game that brings back the nostalgic feeling that many of us love when remembering years past hanging out in arcades.
Furniture rental is something that is sometimes overlooked at parties.  When you are putting together your party you should consider adding furniture to create a high-end lounge feel.  We have done many different event furniture rental configurations that have really dressed up events that otherwise may not have been comfortable for guests.  Your guests don't always want to sit at a table for the entire duration of your event.  Why not offer a sofa lounge with plush seating for them to sit back and relax.  This is especially nice when you have a bar rental at your event they can sit and enjoy.
AZ Bounce Pro has a full line of bar rentals that are great for many different occasions.  We have modular bar rentals that can be configured to fit almost any configuration that you could be looking for.  Do you need a bar that is 70 feet long?  We have the bar rental for that!  Need a bar configured that is a giant circle as the centerpiece for your event?  We can do that as well!  Our bars can also be customized with our in-house large format printing and glowing LED lighting.  We carry the nicest bar rentals in the industry and hundreds of clients have trusted us when they want a bar rental for an event in Arizona!
When you are planning a company picnic there are many other party rental items you can choose from.  Typically when you are looking for company picnic plans you will want to start with the entertainment rentals and move onto things like catering, food, and concessions.  We carry many rentals for company picnics and parties.  We can help you plan your company picnic or outdoor corporate event so that you can enjoy your company party!
No matter what type of event you are planning in Arizona, AZ Bounce Pro is your source for the best and newest party rental equipment.  Be sure to put your trust in us to make your next special event an epic success!